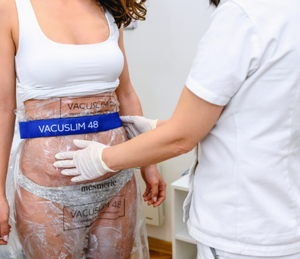 EUROPE'S MOST-POPULAR BODY SHAPING TREATMENT
Vacuslim
Body Reshaping
Direct from Italy, Vacuslim combines 5 effective procedures into one, which gives immediately visible results! It is a safe, painless, and completely non-invasive treatment for reducing fat deposits and shaping the body.

You may know how difficult it is to reduce problem areas, such as belly fat, "love handles," deposits on the hands, and other places - but the Vacuslim method allows you to target precisely defined parts of the body. These fat deposits can be reduced with only a few treatments with Vacuslim. The first results are visible after just one treatment.


Book now
Non-invasive treatment for lipo like results
How does Vacuslim Work?
The innovative professional treatment of Vacuslim is a synergy of the unique invention of the Vacuslim vacuum bag, which is made of special material and revolutionary active ingredients that are in all Vacuslim products.

The application of the product, and the creation of a vacuum environment after their application, helps the active components of the product to act on all 3 fat cell metabolism, which leads to:
- fat breakdown
- preventing the storage of fat cells
- slowing down the formation of new fat cells

At the same time, the active ingredients reduce cellulite and visible signs of "orange peel". In people who have the hardest and fibrous cellulite, after just a few treatments, it turns watery, soft, and breaks easily, resulting in a dramatic improvement in the appearance of the skin. Vacuslim treatment stimulates the lymphatic system as well as the natural process of detoxification and the release of excess accumulated fluid.

Vacuslim products do not contain parabens, mineral oils, or aggressive substances causing body heating. Vacuslim products have not been tested on animals.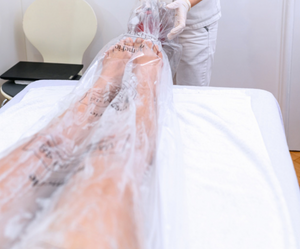 Non-invasive body reshaping
Vacuslim Benefits
Vacuslim is a relaxing and painless vacuum treatment, with a pleasant sensation of dull-cold which increases thermogenesis and thus mild calorie consumption. The vacuum effect - enables deeper and even insertion of active ingredients to achieve fast and long-lasting results. Does not affect your daily activities (jogging, sunbathing, swimming).
Multiple consecutive series of treatments without side effects are possible until the desired result is achieved. Extended effect for up to 48 hours thanks to the unique vacuum environment with the help of the Vacuslim bag.
book now
Benefits of Vacuslim
• Immediately visible results after the very first treatment
• Visible reduction of cellulite
• Non-invasive body reshaping
• Skin tightening
• Soft and elastic satin-like skin with less visible stretch marks
• Loss in the circumference of 8 to 19 cm (collectively on average of the measured regions) after the first treatment